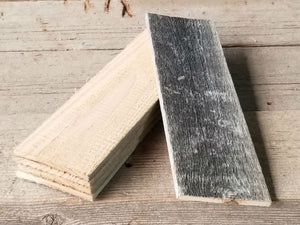 Ready to tackle your next DIY wood project? Vinta Wood offers bundles of reclaimed wood planks that are perfect for whatever project you have in mind.   Vinta Wood is real reclaimed barnwood, which will give you the unique rustic look that you can't get in a store. 
Pack of 6 rustic wood planks; sizes available:  24" & 48"  long x x 3.5" wide x 0.25" depth each.
Real Reclaimed Barnwood

planks:  easy option for decor, crafts, furniture, wall art and more.